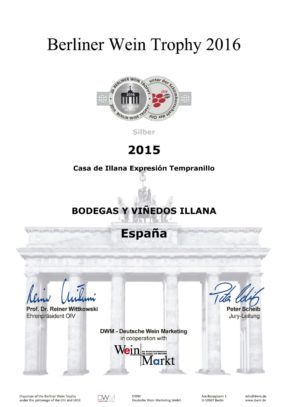 Casa de Illana Expresión 2015 is again recognized internationally, this time in the Berliner Wein Trophy, the biggest oenological competition in Germany.
Bodegas Illana has achieved the recognition of the quality of its wines in the international "Berliner Wein Tropy 2016" competition organized by the Deutsche Wein Marketing (DWM) and sponsored by the International Organisation of Vine and Wine (OIV), which guarantees that international standards are met on tasting based on four criteria: appearance, odor, flavor and harmony of the whole; and the International Union of Winemakers (UIOE) representing more than 20,000 professionals from more than 12,000 companies in the wine sector.
The event, in its special summer edition was held in Berlin and its results were released at the end of August, in which we learned that Casa de Illana Expression 2015 received the silver medal.
Casa de Illana Expression 2015, is wine made only with Tempranillo grape, with a short aging in barrels for 3 months.